How to Create A New Website in 5 Minutes
Creating your web page is probably much simpler than you think. Even if your primary market and customer base is local and offline, you can still create a website to enhance your marketing strategy.
If you are a freelancer and want to earn money blogging or if you want to make money online, creating a website should be in your priority list. 
Increasingly modern online marketers want to create something more personal than just a page on Instagram, Pinterest or Facebook.
Why not create a website yourself with your own domain name and a lightning fast hosting, that too in just 5 minutes?
First a little planning. Three top tips are:
Use a pen and paper to write everything you want the page to have. Brainstorming is a perfect way to organize thoughts. Technology can be put aside for a moment.
Check out other interesting websites; both from a design point of view and for content ideas. Take notes of what you like about those pages and what you do not like.
Once you have a draft version of the page, ask trusted people to give their opinion on it. This can provide very valuable insights since from the outside you see a project very differently.
How much technical knowledge do you need?
This depends on the level of functionality you want to give the page. The most complicated way would be to learn HTML and CSS language; the basis of virtually any website on the Internet.
However, this is not the only way to get it: even without being very friendly to the technical aspect of things, you can create a stunning website.
But, how?
The answer is, by using a web page creator.
If you are able to use Word or PowerPoint, you can use these tools without any problems. The provider of the website creation service offers in a package a domain and a web space.
You can use WordPress or Blogspot (Bloggers) to create a beautiful responsive website for you without knowing anything about coding.
We also have a dedicated article to help you create a free blog using Blogspot. Read How to create a free blog using Blogspot.
However, WordPress is the most used tool to create stunning websites as it is easy to use and with the plugins, you can implement almost any features that you want on your website.
You think of any functionality that you want to have on your website, and there is a WordPress plugin for that.
Something more professional
There is a great variety of web creators, depending on the needs you have. You can have a blog on the page and even create a very professional online store.
A web creator in the current Web 2.0 can make our life easier while leaving you free to select the important aspects regarding the design and functionality that you want to have on the page.
---
You may also like to read 21 Resources to Improve Website Performance
---
You can choose a design from the many existing themes and also customize it until you are delighted with the result. Each creator of web pages presents his style; I would recommend that you take a look at their templates galleries.
On the contrary, if you want to set up your website with the help of a professional, you can hire some experts. You will get an idea of the market prices for these types of projects. Check your ratings before hiring them. These sites help you hire from graphic designers to content writers.
Now, register your domain and host your new website online!
Well, as soon as you are ready with your plan, choose a lightning fast domain name provider. The best way is to buy a package where you will get your domain registration, web-hosting, email-hosting, and all other services to launch your website online with full of confidence.
Advantages of a custom domain name for a blog
Getting a custom domain name is the first step towards your online presence. A domain name is the most convenient way to find you in this vast universe of web.
However, getting the best domain name is not an easy task always. It needs good research on your niche, and you need to dig through several domain names to find the best-suited domain name that is available for you to register.
FatCow is one of the best and lightning fast domain name provider. So, hurry, get a domain name for your business and make a move forward. Here, we will discuss some of the advantages of a custom domain name for a blog.
It is memorable and easy to discover
A custom domain name is the easiest way to remember your business. Every business offers something unique in a different niche. Whenever people are in need to find some information, they search it online. Blogs with easy and relevant domain name get discovered faster and quickly.
Search Engine likes Custom Domain Names!
Search engine likes a blog with a custom and relevant domain name. It allows your website to get found on the net and improves your SEO score.
Get monetized faster
If you want to earn some extra money by monetizing your blog, a custom domain is a must. Google Adsense takes a good custom domain seriously, and it increases your chance to get approved.
Professional email address
If you are looking to create a professional impression, having a professional and custom email id is essential. However, you cannot create a custom email address with a subdomain. You must have a custom domain for this.
Create subdomains
If you have a custom domain, you can easily create a subdomain such as contact.yourdomain.com or prices.yourdomain.com for your users. But, if you only have a subdomain, you will not be able to create another subdomain from it.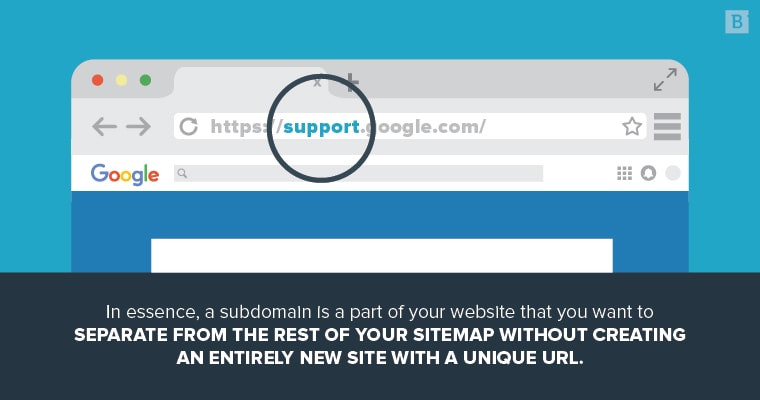 Source: Brafton
So, in short, get a domain name registered>choose a trusted, and lightning fast hosting provider>choose WordPress or Bloggers as your website creator>connect your domain name and hosting with your website creator>.
Now, your website is live, and you can customize the looks and functionality of the website according to your needs.
Online marketing is a must-have strategy for any business, and it is important that you take your domain registration seriously. Find an authentic and trusted domain provider and get your domain today. Once you have a domain registered, and set up your website, you can start building your online business thereafter.