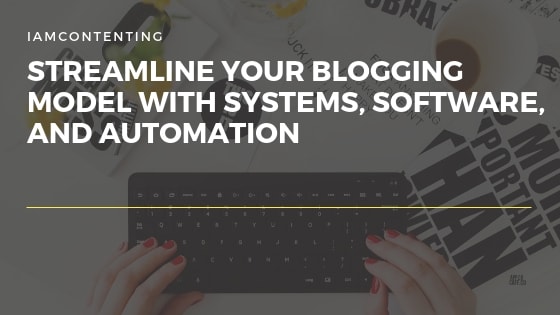 Best tips to Streamline Your Blogging Model with Systems, Software, and Automation
If you are updated with the latest trends in this digital world, you would already have noticed that hundreds of people around the world are making their living writing a blog or monetizing their websites. Blogging in India and in other countries has also become a very popular profession. However, earning money from blogging is not an easy task. 
Digital Entrepreneurship is fashionable and profitable nowadays! However, it requires a lot of skills and certain tools and software to streamline your business model. 
Working on a platform such as the Internet, sitting comfortably on the sofa at our house, on the Malibu beach or simply leading a life that arouses envy, is what many freelancers have accomplished.
However, social media marketing plays a big role in a freelance career. The automation, software, and digitization made these tasks easier. 
Sometimes, when you decide to create your website and give shape to a digital business, you may be overwhelmed by many expectations and goals.
Streamlining your freelance business model with automation is not something to be taken casually.
Once you start using automation as one of your marketing strategies, you will feel the difference.
You can learn to take advantage of it, do you know how?
With the automation of digital processes, tasks that are based on certain patterns can be studied in advance and carried out "automatically."



Marketing Automation
Automation will help your digital business acquire a greater momentum, generate passive income (even when you are not) and optimize the time spent on your web project.
Marketing Automation is not a new concept as it is in existence for quite some time now. Blogging in India and in other countries has seen steady growth and marketing automation can take it to a better height. 
Many recognized companies worldwide have used it to automate their business and offer personalized experiences to both current and potential customers.
However, small and medium-sized companies are beginning to realize the enormous potential of automating their digital marketing, because this practice helps optimize human resources as well as commercial management.
What are my options?
Fortunately, today, numerous platforms allow the automation of digital marketing and adapt to all business needs and budgets that each business has.
So, you do not have to wear yourself out or go crazy trying to make all the actions of your strategy go perfectly. Each time, more and more tools are developed that can help us to optimize and automate the processes that are carried out within our digital marketing strategies.
Learning and implementing new tools is a must-have action plan for freelance business development.
This way, you will make sure that you are posting your contents on social media every day at a perfect time.
This type of tools is what is known as automated marketing software. In a few words, with this type of software, you can increase the productivity of all your marketing efforts and, in addition, you can receive much more specific metrics and results that will allow you to analyze and structure your strategy in a better way.
I personally like Buffer and Klout for my marketing automation and social media management. There are many such automation tools, and all of them have their own features. 
Beware of the downsides
Don't make automation your only marketing habit for your freelance business model and blogging in India. The followers can sense your carelessness and might turn away from you.
Use automation as one of the added features to your strategy, don't make it the only strategy.
Many companies are serious about thinking that they can let their marketing automation do all the work, and this attitude is not the best way to achieve business goals.
Marketing automation requires a lot of dedication and constant knowledge because this is the only way for everything to work efficiently and be profitable.