7 Best Project Management Tools and Software for 2019!
With the advancement of technology, project management tools and software have undergone lots of improvement. These modern-day tools have become a basic necessity for organizations. The PMS helps the companies in managing their projects most efficiently. Besides managing the project's costs, PMS also helps the businesses to complete their projects on schedule.
With the availability of so many options, selecting the right Project management tools and software is not that easy.
Factors to Be Considered While Purchasing PMS
The most important thing that the buyer should check in PMS is the features. The features of the PMS should be according to the needs of the team. Next comes the complexity. It is always advisable to select PMS which is simple and easy to use.
The cost comes next. The buyer should consider the price of the software, as well as, the internal cost that the company would need to spend after the purchase of the software.
Some of the other factors that need to be considered while purchasing PMS are speed, support services, reviews, and awards.
7 Best PMS and Tools of The Year 2019
Zoho projects
If a company is looking for a simple and easy to use PMS then Zoho projects is the best choice and a must-have in this list of best project management tools and software. Its features allow the team to achieve its target by setting task lists, creating milestones, etc. This software enables the team to breakdown its projects into smaller units which make them easy to manage. Some of the additional tools that come in collaboration with Zoho Projects are:
EmailsProject

Calendars and meetings

Project chat

Integration with Google apps
Once, the project is finished this software's Gantt charts, and graphs enable the user to get an in-depth insight into the project.
The price of the software is quite flexible. Five different plans are available for this PMS. The Freelancers and small teams can opt for the free plan option.
You may also like to read 21 Resources to Improve Website Performance
Workzone
Workzone is a cloud-based PMS. It is best suited for marketing firms, add agencies and operation teams which have around 5+ users. The software is very easy to use and is very helpful in managing heavy workloads.
Workzone is available in the market for more than 15 years now. It is considered as one of the best tools for managing projects in an organized way.
Features of Workzone:
Point and Click Management

Create a customized template

Workload reporting

Time tracking

Project

expense tracking reports

Gantt Charts

E-mail collaboration and file sharing
Asana
When we talk about the best project management tools and software, Asana project management tool is a must-have on the list. This PMS is mostly preferred by creative businesses. Accessing can be done by members who share similar e-mail domain. It is best suitable for small and medium-sized teams. Its low learning curve makes it easy to use. The team using this management tool communicate through conversations, calendar, and a project's area.
Features of Asana:
Project process tracking

Conversations

Inbox

DesignCustom Field
The software is available in three plans: Free, Premium and Enterprise.
Trello
Trello project management software act as a visual collaboration tool. This tool helps the team to organize work by creating tasks, assigning them to team members, prioritizing the task and tracking the project's progress. Its drag-and-drop technology makes it easy to use. Trello is quite flexible and is used by various businesses. It's a cloud-based software which provides a centralized space for its users where they can interact, share files, view updates and changes and get notifications.
Features of Trello:
Easy to use

Task Management

Project tracking

Cross platforms

Email integration and power-ups
Trello offers 3 different plans: free, business class and enterprise.
Smartsheet
Another famous Project Management Software is Smartsheet. This enables managing the project through its time tracking, resource management team collaboration and reporting features. With the help of this software, companies can complete their projects within the budget.
Features of Smartsheet
Team collaboration and communication

Automatic update requests

File attachment from Dropbox, Google Drive, and Onedrive

Secure Permission Control

Visibility to check if the user is busy or not.
Both individual and Business plans are available.
Redmine
Redmine is a web-based PMS. This is highly beneficial to business which manages many projects and associated sub-projects. The software also provides a visual insight into the project via its calendar and Gantt Charts. With the help of this software, each user can be allocated different roles for each and every project. Its issue management system is highly effective as the user can define various issues and can prioritize them on the basis of the requirement.
Features of Redmine:
Multiple project tracking

Issue tracking system

Role-based access control

Calendar and Gantt Charts

Time tracking of the project
Wrike
Wrike is a cloud-based project management platform and can be accessed by team members from any device. Its features are as follows.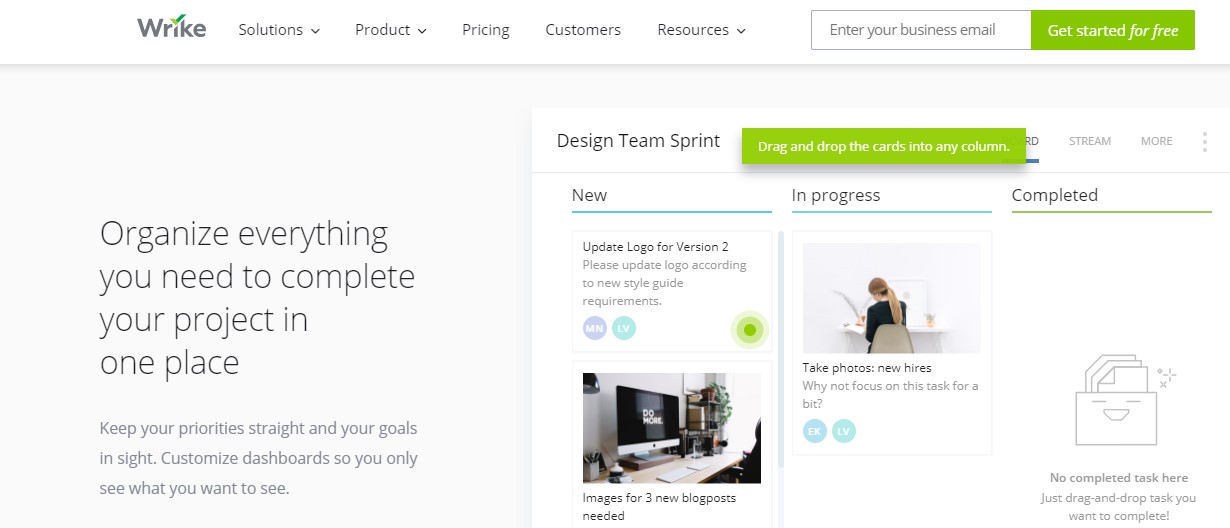 Features of Wrike:
Schedule, prioritize and assign tasks with ease

Wrike dashboards will help in quickly assessing the completed tasks of team members

Workflows can be created for multiple operations and assign tasks in each of them

We are able to find Active, in progress and Completed tasks in the dashboard itself
This was a list of best project management tools and software 2019. However, the user should select PMS as per their need and requirement.