How to Make A Living with Your Blog in 2019
Millions of blogs are there worldwide. Yet, many people think about how to make a living with their blog.
A research showed that about 4 million blog posts are getting published every day.
So, are people reading all these scattered posts every day?
Of course not! Then, how do bloggers make money blogging?
How to make a living with your blog?
How hard is to make money blogging?
Well, these are some of the questions which are revolving inside your head.
To make this simpler, we are going to discuss:
How to start a blog?

Which blogging platform should you use?

How to buy a domain and a hosting plan?

How to optimize your blog for search engine traffic?

How to design your blog using themes and plugins?

How to create a content strategy?

Monetize your blog using multiple revenue streams.
This way, you will have a detailed idea of where to start, how to plan, how to execute the plan and how to track your progress.
This sounds fair enough? Ok, then read along.
How to Start A Blog?
To make a living with your blog, you need to give it a solid start. You should have a plan of action from the very beginning.
From the very beginning, you must have a clear idea about the topic you want to highlight on your blog. Your blog should talk about something specific.
How to Choose A Blog Topic/Niche?
Step #1. Do You Love The Topic?
To start writing, you must enjoy the topic. If you don't, it will show in your writing. Your topic idea should not have to be something very unique or revolutionary. Instead, you must have the desire to write on this topic/niche.
Step #2. Is The Topic in Demand?
As I mentioned earlier, your topic might not be very unique but find out if other people are also having an interest in this topic. To find it out, go to Google search and type in your topic.
For example, if you want to create a blog where you want to talk about homemade bread, you need to find that other people are looking for the same term in Google.
Search with homemade bread in Google, and you will see about 31,20,00,000 results which show the popularity of this topic.
Remember, a blog which talks about everything randomly, will not make any money in 2019. You need a niche specified blog. Google loves websites that talk about a specific niche topic.
Which Blogging Platform Should You Use?
Now, as you have the idea about the niche of your blog, you must be thinking which blogging platform should you use?
To start a blog from scratch, you should use the right blogging platform. Many blogging platforms are there. However, WordPress and BlogSpot (or, Bloggers) are the two easiest platform to jump into.
Most of the bloggers use WordPress to power their website. A whopping 30% of the websites in the world are already based on the WordPress platform.
If you want to use BlogSpot as your blogging platform, you can read our dedicated article on How to create a free blog using BlogSpot?
However, in this article, we will take WordPress into consideration as we recommend you use WordPress as your blogging tool if you want to monetize your site and want to make money blogging.
How To Setup A Blog?
Choose A Domain Name
You need a custom domain name for your website.
You can get web addresses like yourname.blogspot.com or yourname.wordpress.com for free, but these are not the one that can make a living for you.
Google loves websites with a custom domain name. It makes it easier for Google and for the readers to understand what your website is all about. You can buy a domain name roughly for $10-$12/year, even less if you can grab an offer.
Choose The Right Hosting Plan
Like the domain name, web hosting is also a significant factor for your blog as this allows your blog to be accessed online.
Many web hosting providers are out there, and they have many different plans to choose from. However, to start a new blog which will have low to moderate traffic, a basic web hosting plan should be sufficient.
We recommend you to choose a plan from reputed companies like Godaddy, Bluehost, and Fatcow.
Fatcow has a dedicated hosting plan for WordPress and for only $3.75/month, you get a year free domain registration, unlimited disk space, and bandwidth.
Design Your Website
Once you already have a domain name and hosting plan, now you can install WordPress as your blogging software. It is easy, fast and very powerful.
From your hosting account, you can log in to your WordPress account and start designing your website.
There are many free and premium themes in WordPress which you can use to give your website a different look.
Choose A Premium Theme
We recommend you to use a premium theme for your professional website. It gives you hundreds of customization options to play around.
So, How Do You Install A Premium Theme?
Buy a theme from reputed WordPress Premium Theme providers like Elegant Themes, StudioPress, Themeforest, Themify, etc.
Install the Premium Themes in WordPress
Once you purchase a premium theme, you can install the theme in WordPress.
Log in to your WordPress dashboard.
Go to Appearance>>Themes>>Add New>>Upload Theme.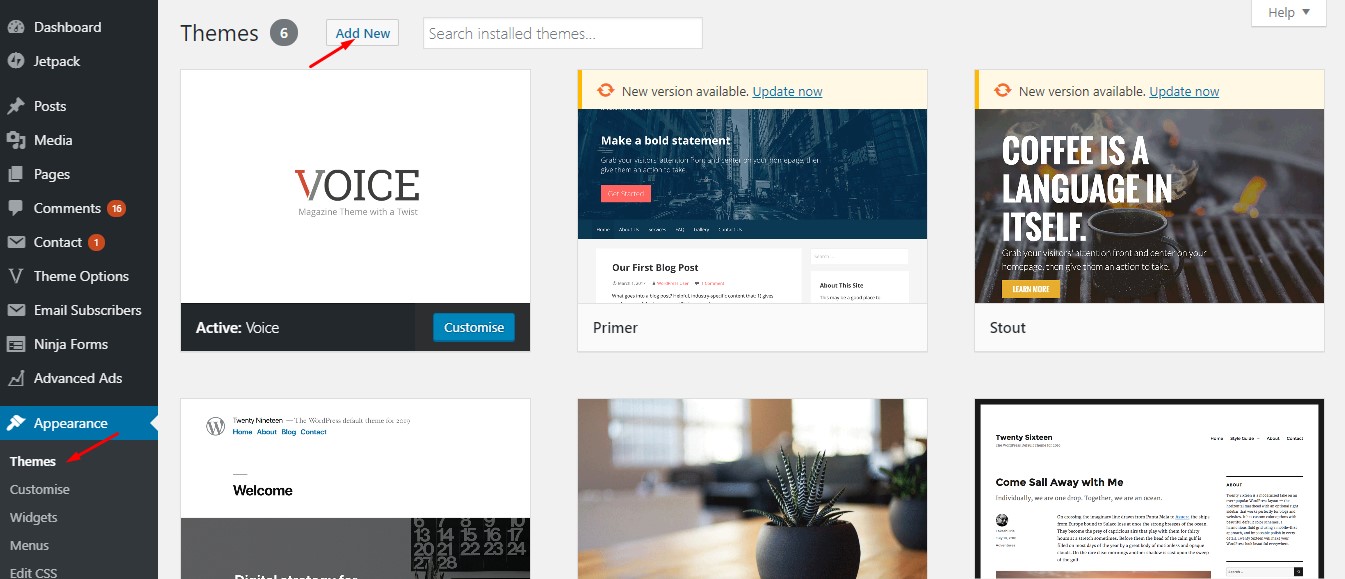 Once the installation is done, click on activate the theme.
That's all…Your new premium WordPress theme is installed. You can now customize more to your liking.
Add Pages to Your Website
Once, you have your website ready, add some pages which will allow the users to get to know you.
For example, create pages like About You, Contact Us, Services, etc.
Optimize Your WordPress Blog for Search Engine Traffic
Setting up the theme, pages and other stuff are the foundations for your new website. Now, how your website will show up in Search Engine? Well, because of your quality content. However, you need to optimize your website and posts to get noticed by search engines.
To make money blogging or to make a living with your blog, getting search engine traffics is the most important thing.
You need readers, users, and buyers. And to do so, you need to make your blog SEO friendly.
Making your WordPress blog optimized for search engine traffic is relatively easier. You can start by downloading a plugin called "Yoast SEO."
Setup your Yoast plugging. To do it correctly, you can have a look at a guide "The Complete Guide To Using The Yoast SEO WordPress Plugin."
Also, read the book "WordPress SEO Rocket: Your blueprint for unlimited website traffic" to get more insights on how to set up your WordPress website for better SEO.
Setup Google Webmaster Tool
Google Webmaster Tool is a perfect solution to track and improve your website's Search Engine Performance.
Add your new website to Google Webmaster tool. To do so, first, you need to login to Google Webmaster using your Gmail id.
Then click on Add Property. In the next step, provide your website URL and Click on Continue.
Now, you need to verify your domain ownership following any of these methods.
Once, the ownership is verified, your property will be activated in Google Webmaster Tool.
Make a Content Strategy
Everyone knows that the Content is King. But the truth is "the best content is King."
There are millions of blogs who are writing about the same topic as yours, but how does Google rank them? Google finds the quality of the content. And, they rank them accordingly.
People always wonder
What types of blog make money?
How to do blogging for a living 2019?
Can I really make a living blogging?
How does a blog get paid?
Well, answer to all these questions is the same. Quality and updated content.
Content Plan
To start your content creation journey, first, make a content plan. The best is to use an excel sheet.
On this excel sheet, you can plan the type of contents you want to publish, the dates, content outline and so on.
This content plan is crucial to make sure you are on your path and do not get distracted.
Brainstorm The Topic Ideas
Brainstorming the topic idea is the most critical part of your content plan. Start asking questions to yourself from a reader's POV. This will initially give you some topic ideas.
Now, search for relevant topics for each of these topic ideas on Google. This will then give you more ideas to play around.
Read each of the top ten content for each of the search terms and come up with a topic idea that will be more in-depth, updated and valuable for the readers.
A few days back I wrote a content on Create Engaging Content Using Artificial Chicken Hatching Technique! It is a very simple three step process to come up with engaging content ideas and then to create informative content based on the idea.
You can also go to Quora or Reddit to see what the users are asking about. Find some questions that are still unanswered, and you feel that your knowledge can be a help to answer that particular question.
Keyword Research
Once you have your topic idea, the next part is to do thorough keyword research. Many tools are there to do solid keyword research; for example, SEMrush, KwFinder, Google Keyword Planner, Ubersuggest, etc.

Use any of these tools and get many relevant keyword ideas that can be used on your content. Using proper keywords is a very important factor in ranking on Google.
Write Your First Blog Post
You have a topic, you have the content outline, you have the relevant keywords, so now, it is the time to create the content. Find visual properties like images, infographics, videos, etc. to enhance the reading experience of your blog.
Before publishing, proofread the content several times to make sure everything is alright and polished.
Once your content is ready, it is your time to publish it online.
To do so, go to your WordPress Dashboard. Go to Posts, and then Add New Post.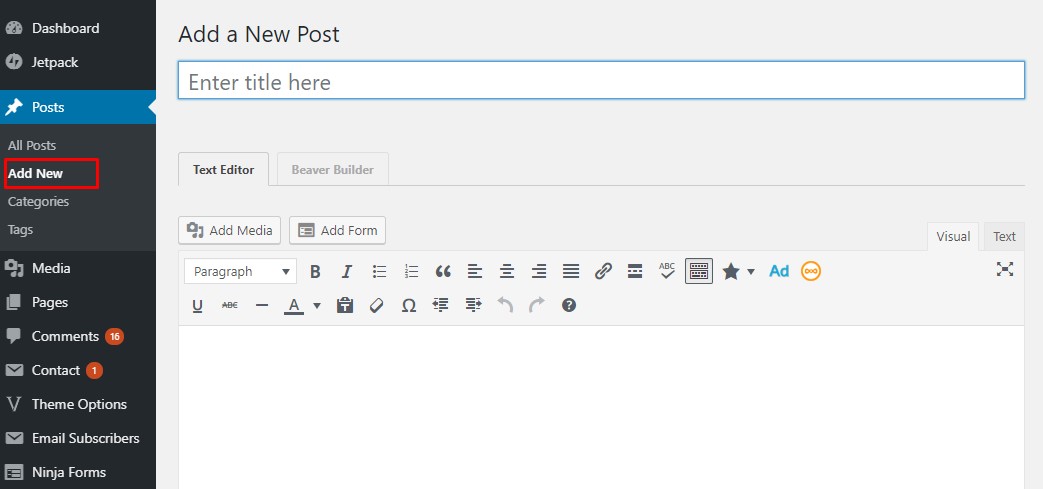 Monetize Your Blog
You have done all the hard works to set up your blog and publish a few posts.
It is now the time to monetize your blog. There are various ways to monetize your blog for a better outcome, however, do not go overboard and try all the methods out there.
Too much implementation of blog monetizing can actually harm your blog's user experience, and that can ruin your earning potential.
Create Multiple Revenue Streams
Once you already have built a good readership for your blog, you should be able to make money from it.
Try the following methods to make a living with your blog.
Sell digital products

Make money showing advertisements

Make money with Affiliate marketing

Sell space for direct ads

Sponsored content
Sell Digital Products
If you already have your content skill up, you can try selling some of your own digital products in the form of e-books, Workshops, Online Courses, Consultation, etc.
If you plan to sell some of these digital products, remember to make them relevant to your readers.
Make the products with care and make sure that the quality of the product is very high and valuable.
Make Money Showing Advertisements
The easiest way to earn some extra money blogging is to show some ads. You can sign up with advertisement providers like Google AdSense, Media.net, etc., you should already have a good amount of traffic.
There are two different types of ads that can be used as a revenue system:
CPC or PPC
Cost Per Click or Pay Per Click is the most common advertisements that we see on many websites. You get a payment for each time your readers click on the ad.
CPM
Cost Per Thousand Impressions is the type of ads that pay you for a certain amount of views on the ads by your readers.
Make Money with Affiliate Marketing
Once you have a good amount of regular traffic and a big list of email subscribers, Affiliate Marketing is the best method to earn money with your blog.
Affiliate marketing is a way of marketing where you place a link of products from other people, and whenever someone purchases that product through your link, you get a commission for the sale.
Before jumping on to affiliate marketing, you need to find a profitable niche and also need to research what your readers are buying from others. Placing the right product link in the right place is the art behind affiliate marketing.
Sell Space for Direct Ads
Selling space of your website for Direct Ads is another excellent idea to earn money blogging.
Many organizations are looking for website space to showcase their products to a wide range of audience.
You can sell a small space of your website, (for example, a space in the sidebar) and set the price for showing the direct advertisement.
But, make sure that you are not advertising just any product. The product category must blend with your blog niche so that it is relevant to the readers and also does not smell fishy.
Sponsored Content
A blogger can make money blogging by reviewing other products and services.
You can publish a sponsored post on your blog and get paid. It is a lucrative way of making money. However, to do so, you need to have a well-designed blog to attract advertiser. Also, you should already have a good readership.
The product or the service you review must be relevant to your blog, trusted and valuable.
To get sponsored content, you can reach out to advertisers who are interested in buying a review of his product or services.
Conclusion
You have started a blog or planning to start a blog to earn money online.
Remember, starting a blog is easy, but to maintain the blog and to earn a living with your blog requires a lot of time, dedication and hard work.
Keep trying and improving the quality of your blog.
Maintaining a blog is similar to running a physical business. The outcome is rewarding.
Create great content, follow the tips given above, learn from your mistakes and you will see your blog shining.