21 Resources to Improve Website Performance
Do you have a website?
Are you thinking about how you can improve the performance of the website?
What can you do to increase the traffic to your website?
How to improve your website's SEO?
Well…….if you have all these questions on your mind, then you actually care about your website. Having a website which doesn't generate any revenue, sales or conversion is not an asset. It is a liability.
We are living in an era where millions of websites are live and to rank among the millions is a tricky job. A decade ago, ranking on Google was 10 times easier than now.
However, it does not mean you can't rank on Google. Recently, I was studying a case study by SEO expert Brian Dean and found how his Skyscraper technique helped him to increase his website traffic by almost 110.94% in just 14 days! That's really awesome! Isn't it?
Now, as you already have some confidence that you can improve website performance, let's dig into the list of 21 resources that can really boost up your website and improve website performance. This list covers resources like Informative blogs, SEO tools, and Learning resources.
Resource #1: Backlinko.com
As I already mentioned how Brian Dean does some amazing researches and case studies to find the best steps to improve a website. His website Backlinko.com is an amazing resource of tips, tricks, and hacks that you can easily implement on your website and get a similar result. Because of Brian's brilliant case studies, his blog is also in my list of resources to improve website performance.
Resource #2: Reddit
Reddit is a community forum that is a great source of ideas to create linkable and valuable content. To find ideas, you can find subreddits which work as sections. Different subreddits concentrate on different topics.
Resource #3. Quora
Like Reddit, Quora is also a widely used community forum. You can find relevant queries posted by the users on your niche and you as an expert can take these questions as a topic for your blog and produce a detail solution.
Resource #4. Twitter
Twitter is the most popular social media platform for the professionals, and there you can easily find what topics are trending on your industry and create content accordingly.
Twitter is also a great platform to share your content and bring in traffic to your blog.
Resource #5. SEMrush
SEMrush is a tool that is a must-have tool for all professional content marketers. You can identify keyword opportunities, do competitive analysis, find and analyze your website's performance, strategize your content, find advertising opportunities and many more.


Resource #6. LinkedIn
LinkedIn is a professional networking platform. You can find your industry's top influencers and follow their posts and activities to understand how they are doing to increase and to maintain their business growth.
You can also use LinkedIn to post some articles and link back to your website. It helps in increasing quality and targeted audience to your blog.
Resource #7. Medium
Medium is another open platform for bloggers where you can read and publish content relevant to your expertise. It is also a very good platform to generate useful ideas for the topics for your website. Like LinkedIn, Medium can also be used as a source of targeted traffic to your blog.
Resource #8. Google
It is very obvious! Isn't it? Well, you can use Google for more than what you can think of. For example, if you want to comment on relevant blogs where you can leave a link to your website to get additional traffic, you can use Google search the following way:
SEO tips and tricks "Comment."

Best shoe trends "Comment."

Best cars to buy "Comment."
The command helps Google to understand that you are looking for blogs related to your business where there is a place to leave a comment.
Resource #9. Yoast Plugin for WordPress
This is only for the website owners who use WordPress. Yoast is a WordPress plugin that allows the user to improve the content for better SEO results. Yoast makes it very easy to review the content and also help you to do other search engine optimizations such as writing a proper meta description for each page and each piece of content whenever you publish.
Resource #10. Facebook
I am sure that 99.9% of the readers of this piece of content use Facebook to socialize, but very few of them use Facebook for the marketing of their website. You don't have to spend a ton to get traffic from Facebook. You can share your articles, any updates or offers on Facebook and bring in a large amount of targeted traffic to your website for free.
Resource #11. YouTube
To earn more, you need to learn more. YouTube is a place where you get to learn from various industry experts watching their videos. Experts like Neil Patel regularly post videos regarding tips and tricks to improve your website's performance.
Resource #12. Ahrefs
Ahrefs is a tool which allows you to do competitive analysis, keyword analysis, site explorer, content explorer, rank tracking, backlink research, web monitoring and many more. To improve your content marketing and to strategize a winning formula, you need to use these. You need to analyze how is your website performing and how can you improve and compete with your competitors and underperform them. It is an excellent tool to improve website performance.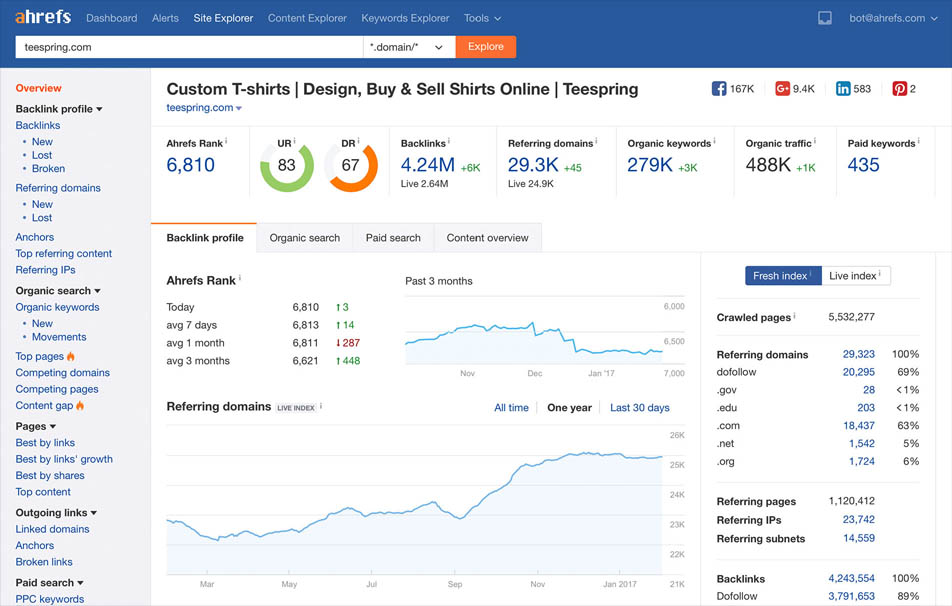 Resource #13. Google Analytics
Google analytics can be used to find out which advertisement campaign is bringing in the most traffic and converting. You can also find out which contents are getting the most clicks and which of your contents are your good and bad performers. With all these information, you can then improve your content marketing strategy for a better result of your website.
Resource #14. Neilpatel.com
Neil Patel is one of the best digital marketers in the world, and his blog https://neilpatel.com/  is a vast source of knowledge and ideas for all the marketers and newbies on how to improve their website. I personally learned a lot regarding how to improve website performance and my content marketing strategies by reading his blog.
Resource #15. Contentmarketinginstitute.com
Contentmarketinginstitute.com is another platform where you can find the answer to most of your queries regarding your content marketing. As their name suggests, their website is like an institute for all the digital marketers who wants to learn and improve their content marketing plan to drive more traffics to their website.
Resource #16. MOZ
For any digital marketer or website owner or blogger, MOZ is a very good resource to analyze the progress of their own work. By using MOZ's link explorer you can track your websites progress in terms of Domain Authority, Page Authority, linking domain, the ranking keywords and many more.
MOZ's free Google Chrome extension named as MOZ Bar is another very good tool for you to evaluate any website's Domain performance easily. Moreover, using the MOZ pro features, you can analyze your links, discover keywords using their keyword explorer, create a campaign, track a campaign, discover link opportunities, etc.
Resource #17. Buzzsumo
I always use Buzzsumo to find which content is performing for a particular keyword and also to find key influencers. Any website owner, who wants to know which type of content is ranking for a keyword they also want to target, Buzzsumo is the best tool for this job. You can also see a snippet of social engagement of each of these top contents.
You can generate an ample amount of content ideas from the results you find in this tool.
Resource #18. Mangools
Mangools have some awesome tools like KWFinder – to find keywords, SERPChecker – to do SERP analysis, SERPWatcher – rank tracking, LinkMiner – Backlink analysis, and SiteProfiler – Website Analysis.
I use KWFinder mostly to find long tail keywords with low SEO difficulty in implementing them on my content.


Resource #19. E-Books
E-Books are great resources of some rock-solid material that can help you in any step where you may need someone to guide you. Some of my recommended e-books to improve website performance are:
Resource #20. SlideShare
Again, it is a source of study materials on any subject. Be it be SEO, Website Marketing, Content Marketing, etc.; you can find many slides from industry experts to guide you and to solve any problem you may face while working on your website.
Resource #21. Google Trends
It is a free tool, and it shows how search queries change over time. You can compare two different keywords or a phrase to see which one is performing better as a search query in search engines.
These are 21 resources which can well be used to improve website performance. You need to give your website some time and follow the tips. Keep learning and keep yourself open for changes that require every now and then.
Have a great time with your website!
Best of luck!!
If you want to suggest me any more resources that I should use to improve website performance, please comment below!