Guide – What Is Freelancing and Why to Opt for A Freelancing Career?
What Is Freelancing?
Freelancing is a different approach to work. A freelancer is not employed full time by a company or organization.
A freelancer is self-employed, and he/she finds work from various sources and clients.
Freelancers can work on various projects at the same time and can determine their own working hours and the amount of work they want to do.
Clients hire a freelancer to get various services including content writing, graphic design, web development, SEO, data entry, etc.
So, as a freelancer, you work on any project where you can contribute your knowledge and expertise to get the work done, and in return, you get paid.
Why Should You Opt for A Freelancing Career?
Now, you have the idea of what is freelancing.
There are multiple reasons for people to start a freelance career. Where there are scams over the internet, which confirms being a millionaire within a fortnight, there are also some legit ways to earn money online.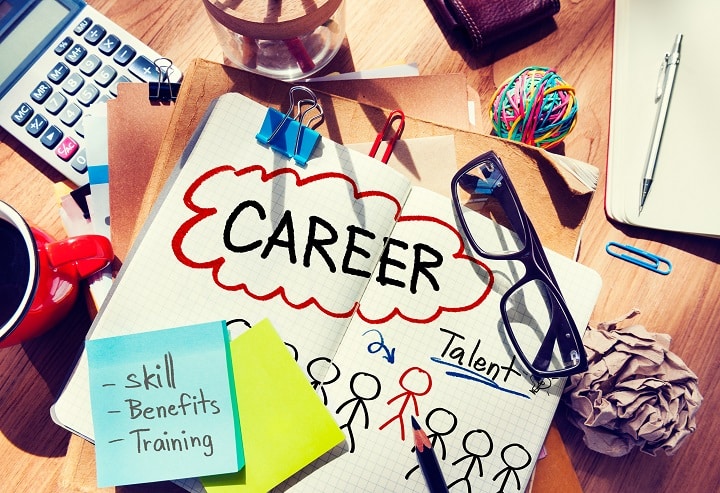 Working as a freelancer is a challenge, as well as, an opportunity and it requires proper concentration and consideration of various reasons and factors.
It is observed that freelancing is something unplanned or in other words, many people have chosen their freelance career by chance and they never even thought about it the whole life.
Freelancing is not anything less than a job, and in fact, there are more responsibilities. However, there are some significant advantages of a freelance career, which is why people are more interested in switching lines to freelancing.
You can use your skills to build a career as a freelancer. For instance, if you love to write, then you can start freelance content writing, article writing services, content writing agency, freelance writing services or if you like to take photographs then you can become a freelance photographer and so on.
---
You may also like to read: Tips to Develop A Killer Content Strategy – Updated 2019!
---
Freedom of Hours
That regular 9 to 5 job is something that needs punctuality, and it also puts pressure, but in your freelancing career, you are not much worried about timing.
In simple words, you have flexibility in your time and schedule, and therefore, you work to finish your projects on the time which suits you the most.
Experience
Working as a freelancer is a great way to build up a strong portfolio. Freelance career helps you to generate experience, which is missing from your resume.
Experience in freelance writing or designing may lead to various marketing and advertisement agencies for better and high profile jobs. Freelance gives your professional life, a powerful push.
Challenging Projects
Starting your career as a fresh freelancer is also very challenging, as most of the contractors look for experienced freelancers.
So, in the beginning, you might need to work on some critical projects for fewer bucks to create your value.
Initially, it may feel like tiring but eventually, the time comes when challenges become a part of your daily life, and you get used to them, and they don't seem to be a problem for you anymore.
Get Acknowledgement
When you work as a freelancer, you get credit for each project that you have completed for your clients.
In the case of the ordinary job system, there are chances that your colleagues or the boss take your ideas and credits, and at the end of the day, you don't get appreciation, which creates a lack of interest in your work and therefore, you begin to lose your value at your workplace.
You Are the Boss
You need to listen to nobody in your freelance career, except for the requirements of your clients. In the freelance career, you become your boss, and you are the one handling, scheduling and motivating yourself.
No Need to Wait for the Holidays
As you have freedom of hours in a freelance career, so you can take a break from your work at any time to spend precious moments with yourself and your loved ones.
You can celebrate holidays whenever and as long as you are willing to.
Income
The expected income can be of any figures. Many of the experienced freelancers are now earning a six-figure income, and it all depends on your performance and dedication you give to your freelance career.
Source: Harvard Business Review 
There are approximately 53 million people in the U.S, who have opted for a freelance career and they have contributed $715 billion to the U.S economy.
Similarly, in the U.K, about 1.4 million people are working as freelancers, contributing £21 billion to the economy.
Many people from other nations like Pakistan, India, and Bangladesh have also made freelancing as their career, and they are successfully earning a handsome amount.
If you are reading this guide, it means you are interested in starting a freelancing career.
Are You Prepared for Freelancing?
Do you have enough skills to take a project from a client and finish that with efficiency?
Do you have the skills to manage your time and create a professional working environment inside your home?
Ask yourself these questions. If the answer is no, then you must prepare yourself to improve your skills and this article will help you to solve some of these issues.
Well, there is no easy money out there. You must give your 100% to satisfy your client and produce a work that you and your client can feel proud of.
Now is the time that you take a piece of paper and note down some tips from here and use them as your starting point.
Find Out Your Interests


You are looking for a freelance career over a full-time office job means you are not satisfied with your previous job or you are dreaming of a career where you can convert your interests, creativity, and skills into reality.
Find out what you are good at.
Find out what do you like the most and what motivates you to work for an extended period without getting tired. If you like to write contents, then you can try for a freelance content writing career.
---
You may also like to read: How to make a living with your blog in 2019
---
Improve Your Skills
Once you have decided what kind of services you are going to provide to your clients, try to improve your knowledge on that.
There are always scopes for more knowledge, and you must not be overconfident about your capabilities.
Remember, millions of other freelancers are providing services similar to yours, and thus you need to be one of the best to stand tall in the crowd.
---
You may also like to read: Best tips to Streamline Your Blogging Model with Systems, Software, and Automation
---
Now, you are must be wondering how to improve your skills? Well, there are many ways to do that. The internet is filled with learning materials. You can go for free coaching on sites like YouTube, Slide Share, LinkedIn, etc.
If you want to showcase your skills on your profile, you can go for online certification courses. Coursera, Udemy, edx are few of the bests among many online certification course providers.
Learn New Tools
Freelancers must be equipped with adequate knowledge of many tools to complete any project with lesser effort and maximum output.
For instance, project management tools can help you to organize and manage your projects. Find out what tools are liked by the industries and try to learn as much as you can. This will not only improve your skills but also will help you to attract more clients.
Test Your Skills
While learning and developing your skills, you can always test your skills which will give you confidence.
For instance, if you are learning web designing courses, you can design your own free blog and see how well it goes.
Ask for feedback and keep updating your site. Similarly, if you are learning content writing skills, you can write contents for your own blog and see how people react to your content.
Create A Stunning Profile
Once you are ready with your skills and you start believing that you can provide helpful services, you can either start your own website with your services and offers or else you can join freelancing portals.
I recommend the later as in the beginning; you need some contacts and a good portfolio. Freelancing portals like Upwork, Fiverr, Freelancer, Guru, etc. are widely used, and every day you will find hundreds of contracts posted by real clients.
So, you do not have to go to several places to find potential clients.
Create a stunning profile with all the details and your offerings on any one of these platforms or all of these platforms. Give authentic and real information about you.
Find projects related to your skills and keep applying them with a professional cover letter and your details.
---
You may also like to read: How to create a free blog using Blogspot?
---
Nothing comes easy. As you are a newbie in this field, you may have to apply to hundreds of projects to get your first contract. So, do not lose hope after few rejected application and keep applying.
Must! Must! Must! Never stop learning and upgrading yourself. Freelancing is not easy, and the client is looking for a well-equipped, dynamic and responsive freelancer who can take responsibility and can finish the project with efficiency. Be one of them!