How Do You Earn As A Freelancer?
Its already been six years since I had decided not to look for any full-time job and start my own business or freelancing career. I chose freedom over security.
Yes, freelance jobs never guarantee you that you will earn a certain amount every month. Even today, I don't know how much I will make next month or month after that.
It can go up or can go down as well. So, there is always a risk involved in freelancing.
To know, how to start a freelancing career, visit Freelancer Institute by IamContenting. 
So, how do you earn as a freelancer? Below are some tips to follow. 
First, Prepare Yourself for Freelancing
Should that demotivate you to start your freelancing career? No, not at all. If you love freedom and if you have the guts to take some risks, freelancing is the perfect career for you.
I know people who are earning 6 digits by doing freelancing. It can be in the form of freelance writing, travel blogging, freelance photography, or taking any freelance projects on web development, design, coding, or teaching.
Before you think about how do you earn as a freelancer, you must find out what you are good at. Don't choose a niche where you have no prior knowledge or expertise. Clients are ready to pay you big bucks only if you are able to create some value for them.
---
You may also like to read Make A Living Earning Online Independently
---
Of course, freelancing is not as easy as it might sound, but, if you are able to create the quality that your clients are looking for, then the road becomes easier.
It took me a good amount of time to realize that there are a lot of competitions out there and so I need to upgrade myself with each and every project.
Till now, I talked about why you should create value with your work to earn a decent amount as a freelancer. Now, let us discuss what are some of the proven methods to make some good bucks.
Gigs
If you are a freelancer or planning to become one, then you must have heard of this term "gig." You list some of your services to freelancing platforms such as Fiverr, Payperhour, Guru and so on and the buyers buy those services from you.
There are many freelancers out there who earn a lot by selling gigs. But, is selling gigs that easy? Yes, this is easy if you know how to provide the best output to your client. If the buyer is happy, they are going to come back again and again.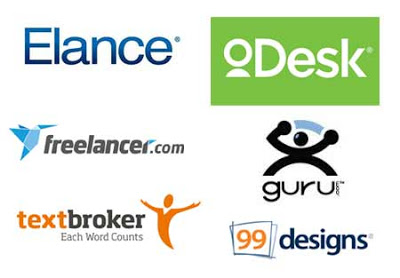 Image Source
Writing E-books
If you can pen down your expertise on paper and then turn it to a valuable and interesting E-book, you can earn tons selling those E-books.
If you are not good with the writing part, then you can hire someone to decorate the words, but you have to be the mastermind behind the content of the book.
There are many marketplaces where you can publish your E-books for free and can reach to your targeted readers easily.
Tutoring
Learning online has become the most sought-after trend amongst the people who are busy in life, and still, they want to learn something new or want to upgrade their knowledge.
If you are an expert on any subject matter or you have a certain skill that is worth sharing, you can actually earn extra money from it. Give one on one tutoring or online tutoring to the people who are looking to gain some knowledge on your field.
Affiliate Marketing
If you are a freelancer, you are online most of your time. And, if you are online, you can run a side business of affiliate marketing. Sign up for affiliate programs and earn commissions for every sale you make from your website.
Website Ads
Again, as a freelancer, you must have a website to attract new clients and showcase your talent. And, once you have a website, you can use some of the spaces of your site to display ads and earn some extra money.
 
These are some of the most commonly used tricks to earn some good bucks when you are a freelancer and when you are working from your home and your own PC.
The Takeway
Now you know how do you earn as a freelancer. Once you get into freelancing, you can find several other methods to earn via sharing your knowledge and creating the value that clients or customers are looking for.
The road to success in freelancing may seem difficult, but, if you are consistent and keep improving your knowledge, you will surely earn good money freelancing. 
Subscribe to Freelancer Institute!