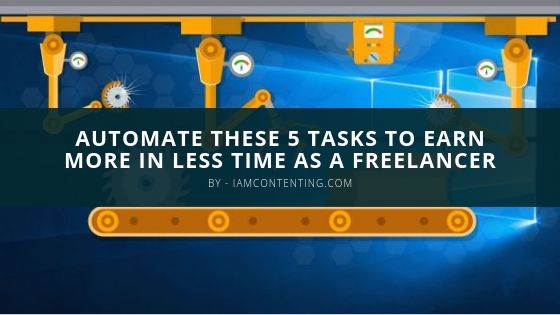 Automate These 5 Tasks to Earn More in Less Time As A Freelancer
First of all, it is very important to accept the fact that life as a freelancer is not as simple as it may sound. People tend to have the notion that you don't have to report to an office on time and you can chill at home and work but technically speaking, the situation is the exact opposite. In this article, we will find out how to earn more as a freelancer with the help of automation. 
The chances of procrastination are more, and since you don't have a fixed schedule, you tend to deviate a lot. However, just like any other normally scheduled and employed person, freelancers want to make as much money as possible in the least amount of time.
The odds are stacked a little against their favor though, as the chances of failure, especially when it is related to a startup or a business venture, are pretty high. Thus, they have to walk the extra mile to ensure a bright future for themselves, at least financially.
"How to earn more as a freelancer" is a universal question in the minds of ongoing freelancers and the potential ones as well.
One potent and accepted way of doing so is through a process called automation. It is not a very novel concept, though, as automation is slowly becoming the order of the day as more and more tasks are being done without requiring much human workforce.
How is automation applicable in freelancing needs a more detailed discussion, and that is what the article intends to do.
Why Does A Freelancer Need to Automate A Task?
Before going into the details of the whys and the hows, what is more, important is to understand what is automation itself. Basically, some jobs are repetitive and redundant in nature and just needs the continued performance of the same task.
Humans have been doing these kinds of jobs for a long time, but with the advent of technology and artificial intelligence, there are other methods of getting it done as well. Automation is that method.
It basically sets work on a pattern or a loop, and instead of repeatedly doing anything manually, it gets automatically completed. Now that you have a brief idea of what automation is, the next important thing to consider is why freelancers need to automate tasks.
---
Subscribe to Freelancer Institute for more free guides on freelancing [vcex_button url="https://www.iamcontenting.com/freelancer-institute/" title="Subscribe to Freelancer Institute" style="flat" align="Right" color="blue" size="large" target="self" rel="none"]Subscribe[/vcex_button]
---
For starters, it saves a lot of time and achieves the purpose of bringing some clarity about how to earn more as a freelancer.
These tasks also need freelance owners to employ someone for completing the work. From a strictly financial point of view, as a freelancer, all the profits need to be used responsibly and paying people to do this kind of work does not make sense.
Hence, automation is definitely going to be very helpful. Moreover, with the introduction of automation, all the work that took a certain amount of time to complete would start requiring lesser.
This means that more amount of time to concentrate on actual work and earn more money. Hence, automation is definitely a matter of absolute choice in freelancers, and the benefits of it are many.
A few of the ways in which automation takes place are-
Social Media Marketing
There is no substitution on the utility of social media in recent times as it is the perfect tool to reach out to a large number of people in a short period of time.
Almost every company has become aware of the importance of online marketing, and the need to assert themselves on this particular aspect and social media marketing is one such potent way of attaining that.
However, managing a social media handle might become extremely difficult for you as you might be busy with your work or may not be very efficient in it. The ideal solution is to introduce automation in social media marketing.
Basically, timers will be set beforehand, and updates and the latest pictures related to the freelancing work will be uploaded directly on the social media pages.
Thus, you don't have to keep taking the manual headache of managing it and can rest assured that your company is in the radar of visibility.
There are quite a few applications available these days for doing the same. If someone asks about how to earn more as a freelancer, you should definitely let them know that social media marketing is essential.
---
Subscribe to Freelancer Institute for more free guides on freelancing [vcex_button url="https://www.iamcontenting.com/freelancer-institute/" title="Subscribe to Freelancer Institute" style="flat" align="Right" color="blue" size="large" target="self" rel="none"]Subscribe[/vcex_button]
---
Emailing to Prospects/Clients
If you have a business venture and are a freelancing entrepreneur in the initial stages of your career, you need to build a lot of contacts and be in constant touch with them.
Emailing is one of the most common methods of doing so. Even looking at it from the other side of the coin, you must have received multiple emails from a company that seems structurally similar but have a fundamental difference in the information included in it.
This can only be done once the option of automated email is made available. It includes a standard email mainly in the form of a reply to subscription of the newsletter or for a basic introduction of the company. The mails are automated and are sent without any human control as such.
Replying to Queries
When you have feedback and query system, it is natural to get a lot of them along similar lines. It might not be possible for you to go through everything and reply to it personally. Moreover, many of the queries might be repetitive and redundant.
Identification of this kind of emails and sending a standard reply is made by automation. You can completely ignore this section and thus dedicate more time and energy into things that actually matter.
Managing Your Projects
As the old saying goes, management is the key to success. When you are freelancing, you will have 101 things in your mind as you will be responsible for the entire thing generally. Thus, managing the whole thing and maintaining records will definitely become critical.
For further convenience, there are quite a few applications that serve the purpose, with Trello and Asana occupying the top positions.
They mainly have lists, tables, and boards, and the process of organization is mainly done using them.
They are capable of handling both large and small businesses adequately and is an absolute requirement if you are wondering how to earn more as a freelancer. Automation plays a vital role in the situation, as mentioned earlier as well.
Bookkeeping Tools to Manage Finances
Another important aspect of management when running your own business and working as a freelancer is to maintain the finances and making sure the revenues and profits and expenditures, all of them are properly accounted for.
This kind of bookkeeping task which was previously handled by a person can now be done in the form of automation using certain applications like AND CO.
They have all the necessary tools to manage your money and keep proper account of it, and you can refer to them anytime you want. This definitely does not tell you how to earn more as a freelancer, but instead how to have control over what you have already earned.
It must have become clear by now that the introduction of automation in certain areas of functioning in freelancing is certainly beneficial, and its proper implementation has quite a few positive implications.
Subscribe to Freelancer Institute for more free guides on freelancing [vcex_button url="https://www.iamcontenting.com/freelancer-institute/" title="Subscribe to Freelancer Institute" style="flat" align="Right" color="blue" size="large" target="self" rel="none"]Subscribe[/vcex_button]