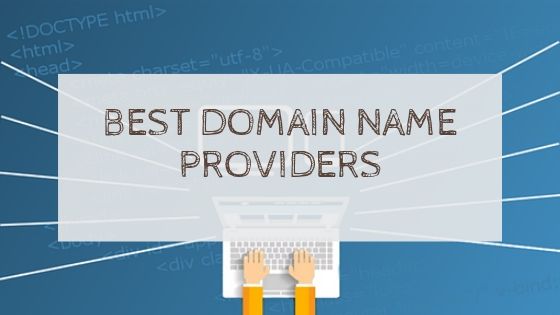 The Best Domain Name Registrar in 2019
To start a new website, the very first thing that is required is a domain name, and then comes the web hosting. The right selection of Domain name and a hosting plan is essential as it represents the company. 
But, from where one can buy these domain names? There are companies which provide best services related to registering domain names. Below, we will discuss a list of best Domain name registrar to help you find the best one for you.
Our list includes:
Before we dig into our list, first, let us discuss more about domain name registrar and how to choose the best one. 
What Is Domain Name Registrar?
The term 'Domain name registrar' refers to the organizations which manage the reservation of domain names. They are also in charge of assigning IP addresses for these domain names. The alphanumeric aliases which are used for accessing a website are known as Domain names. For example, 'google.com,' bing.com, etc.
With domain names, searching a website becomes very easy. The user has to enter the domain name and press enter. Hundreds of domain registrars are available all over the globe. Different domain registrar offers services at different prices.
Comparing these domain name registrars and selecting the best domain name registrar is very important. The factors that need to keep in mind while choosing a domain name provider are discussed below.
How to Choose the Best Domain Name Registrar?
Availability of TLD's
The fundamental thing that needs to be checked is whether the registrar sells TLD's or not; TLD's like .com, .biz., .in, etc. forms part of the domain name. However, many domain registrars don't sell all the TLD's.  Select the company which offers the TLD's as per your requirement.
Pricing
Pricing is one of the major factors for the selection of the domain registrar company. The basic services provided by most of the domain registrar companies are
Searching a domain name

Checking for availability of the domain

Purchasing the domain
Some of the best domain name registrar companies charge their clients for these services only. There are several other companies which charge their clients with additional renewal charges, hidden charges, etc. It is advisable to look for a domain registrar, which follows the transparency principle as far as their fees and charges are concerned.
Registration Period
The choice of the registration period lies with the user. However, selecting the registration period for two or three years would save you from paying the renewal fees which needs to be paid every year.
A good registrar company gives you freedom of extending the registration period at any time before or the time of expiration of the domain. Most Domain Registrars send the expiration notification to their clients. This helps the user to get their registration renewed before it gets expired.
Domain Transfers
In case, you are not satisfied with the service provided by your domain registrar, you can transfer the domain name to other registrars. Most of the domain name registrars don't charge any fees for the transfer. However, few registrars charge an extra fee for domain transfer.
Check and have a clear understanding of the domain transfer policy of the domain registrar selected by you.
Above mentioned factors are only a few factors that you should keep in mind before purchasing services from a domain name registrar. Other factors that need your consideration include: add on services, customer reviews, feedbacks, customer support services, etc. The best domain name registrar is the one that takes care of your needs and requirement within your budget.
The Best Domain Name Registrar
We have done thorough research on the world's best domain registrars and below we have made a list of six best domain name registrars in 2019!
When we are talking about the best domain name registrars, Bluehost is definitely one of the best in this business. Bluehost provides one of the best web hosting plans for only $3.95/month. In this plan you get the following features included:
One-year free domain name

Free SSL certificate

1-click WordPress install

24/7 customer support
Check out if your domain name is available here:
Bluehost also provides some awesome deals for Shared hosting, VPS hosting, and Dedicated hosting. If you are a WordPress user, check out their dedicated WordPress hosting plans which again come in Basic, Plus and Choice Plus options. 
Hostgator is a well-known hosting provider. However, they are also recognized as one of the best domain name registrars. To find your best domain name, just go to Hostgator and type in your domain name. You can get a .com domain for as low as $9.99/year.
They also have options such as Linux shared web hosting, Windows shared web hosting and Open Source web hosting.
With our link and promo code "sunshine", you can get up to 50% discount on your hosting plans from Hostgator.
Namecheap is a well-known domain name seller. They provide domain names at a very reasonable price. Their platform is very easy to use, and you have a lot of options like Free DNS, WHOIS, Domain transfers, and much more.
Namecheap shared hosting plan generally costs you around $2.88/month or you can choose managed WordPress hosting for as low as $1 for the first month and then $3.88/month or $22.88 per year.
I personally like Fatcow domain name registrar because their platform is very easy to use and they provide a very reasonable price for buying domains.
They have a wide range of website tools like Website Builder, Ecwid Online Store, FTP, Weebly, WordPress, and much more. You can get a domain name registration for as low as $9.99 per year.
With our link, you can get Web hosting plans with unlimited disk space, bandwidth and mailboxes for only $3.15/month.
Being one of the oldest domain name registrars in the market, DreamHost provides some useful and affordable hosting plans.
You can buy shared hosting plans for only $2.59/month. The WordPress hosting plan will cost you only $2.59/month. The VPS hosting plan with ultra-fast SSDs costs only $10/month. They also have dedicated hosting, cloud hosting, and website builder plans.
Besides their reliable and fast hosting plans, you can also register your best domain name for only $9.99/year.
Hostinger is one of the cheapest and most affordable hosting providers. When you are buying domain, you can definitely give at Hostinger. They have 99.9% uptime record and also provides 24/7 multilingual customer support.
It also offers flexibilities like 30-day money-back guarantee, a first-year free domain name with hosting plan, and much more. Their free website builder is very easy to use. Click below to get a hosting plan for as low as $0.80/month with a free domain name.
We have listed some of the very best domain name registrars. Choose your domain and hosting packages carefully to have a hassle-free online experience. If you are using any other domain and hosting provider and want to share your experience with us, please comment below.