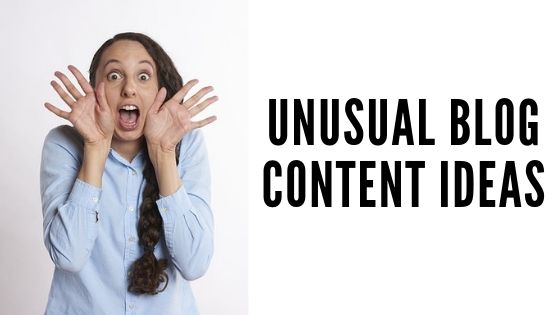 Unusual Blog Content Ideas
Content is key for any company's marketing strategy. When creating blog content, it can sometimes be hard to continue to come up with fresh, new ideas that will attract more customers and keep your audience engaged.
So, what do you do when you're out of ideas? Create unusual blog content. When you think of unusual content, you want to think of what has yet to be done. Is there a topic in your niche that hasn't be covered?
Or is there a topic you can take a completely different angle on? Coming up with unusual content ideas requires a lot of thinking outside the box.
This article will discuss the process of coming up with ideas, as well as highlight some examples of brands utilizing unusual blog content ideas.
The Process
There are a few essential steps you want to follow that will help you better understand what type of unusual blog content ideas to incorporate into your content marketing strategy that would attract your audience.
First things first, you want to gather inspiration from any place you can. Gathering inspiration is an important step in any creative process. If needed, look to your competitors for some inspiration. What are they doing that you aren't?
Maybe their audience is talking about something that you can dive into a little deeper. Or maybe your competitor didn't produce great quality content and you feel like your take on it can be even better. Whatever it is that gets those creative juices flowing, do it.
The next step in the process should be determining your audience's needs. Find out what the buzz is within your industry. This is also a great opportunity for you to engage directly with your customers. Send out a survey or host a Twitter chat.
Ask them what they'd want to see, what they want to learn, or what questions they have.
Next, you want to determine the unique strengths that set you apart from your competitors.
As previously mentioned, you can look at their blog and research their content. Dig a little deeper by looking at the keywords for topics you are interested in and comparing your idea to your competitors in the SERP.
If the top search results are not great quality or there are very few ideas centered around the topics, the topic will be a good choice to pursue.
You will be able to produce high-quality, unusual blog content that can easily make its way to the top of the SERPs. On the other hand, try to stay away from ideas that have a ton of search results, as they are not classified as unusual blog content.
In order to make sure the content is truly unusual, determine what's going to attract people to it. Unusual content will catch a reader's attention more than the same old topic they've seen before.
Examples of Unusual Blog Content
There's a lot of avenues a business can go when creating blog content. Of course, they can write pieces about their services and products, but they also can use their blog as a way to connect with their customers on a more personal level.
This connection helps to build long-lasting relationships with customers as well as attract new potential leads. The possibilities are endless with a brand's blog. Your content strategy should include the always important evergreen content, while still incorporating unique, unusual blog content.
Here are a few unusual blog content ideas you may consider using for your next blog post:
A great way to engage and build credibility as a business. Remember, your customers are the ones that keep your business running, so why not use this as an opportunity to showcase them. Customers respond well to other customers and really value their opinion.
It's one thing for your company to share insight about your products or service, but it's a whole different outlook when coming from an actual customer.
In the example below, we can see a great example of how The Buzz by Bumble featured a couple's unique love story that started from the ever-popular dating app. Using storytelling to highlight customer's success stories provides great content for new and existing customers while increasing your brand awareness.
Inspiring Quotes Related to Your Industry
Everyone loves inspiring quotes that they can relate to. A great opportunity for a fun and engaging piece that will encourage and motivate your audience.
Your employees are just as important as your customers when it comes to the success of your company. It's refreshing for your audience to see who is behind the company, as they deserve some credit too.
Taco Bell's blog is a great example of this unusual blog content idea. Showcasing their employees and showing the hard work that's put in behind the scenes.
Centering content about trending topics is a quick way to boost your search rankings. Though it may not be evergreen content, it can surely bring in traffic that you may not have received otherwise.
Use Recent Movies or Songs and Relate It Back to Your Niche
Remember, content can be fun, too. Consider incorporating recent movies or songs as a topic to center your content around. Of course, you will have to be creative in how you relate it back to your niche and target audience, but this acts as a great attention grabber for your audience as it includes what's trending right now.
Here we can see how Quuu took a popular song and created content around it, but still made it relevant to their target niche.
Throw Some Humor into The Mix
Who doesn't love a good laugh? Humor is a great way to connect with your audience while seeming more relatable. Building trust with your audience means developing a voice you know they'll love, and humor is a great tactic to get you there.
Create Content Around Your FAQ's
If you've got customers, chances are they've asked a ton of questions. Of course, you should have a FAQ page, but use these questions as an opportunity to create additional blog content where you can dive more in-depth on a given topic.
TransUnion ShareAble for Hires has multiple blog pieces centered around common questions that have been asked by their customers.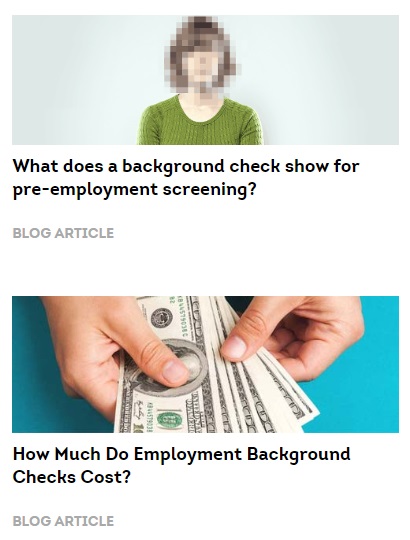 Give your audience a one-stop-shop to everything they need to know about your industry. This is a content idea that can surely be updated and remain relevant far after it's published.
Create a post related to a certain topic in your niche that includes related words and phrases listed from A to Z.
While these posts are not evergreen, they are great in diversifying your content. Though users may not read this content year-round, users will still be searching for this type of content once the holidays roll around again.
For example, during the month of December, The Etsy Blog did a 30 days of gift ideas theme leading up to Christmas, giving them a whole month's worth of content.
Summary
Tons of content ideas have been published multiple times. While topics in your target niche may tend to be repetitive, there is so much opportunity for you to get creative and publish unusual blog content that is guaranteed to stand out from the rest.
Diversifying and expanding your content is key in having a great and effective content marketing strategy.