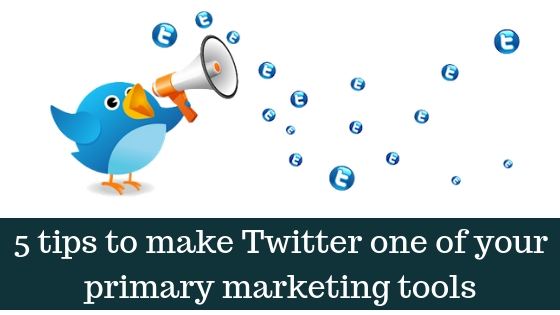 5 tips to make Twitter one of your primary marketing tools
Either on Facebook or Twitter, companies are in a constant race to promote their products and services online. Customers can be reached through many other apps and social media.
These new strategies have brought a whole new set of pros and cons. There are new things to learn and try when it comes to using social media as marketing tools.
In this piece of content, we are going to discuss how to make Twitter one of your primary marketing tools.
Twitter is a micro-blogging platform, and people engage in twitter to share information, products, services, etc.
Unlike other social media platforms, Twitter allows a short description of 280 characters. Moreover, you can leave a link for the viewers to click and come to the desired location. Mainly, you can use twitter as a tool to promote your products or services and also drive traffic.
Twitter hashtags (#) are used to target the desired audience, and it helps the tweet to reach the users who are interested in your niche.
1. Set a purpose for your social media
Every social media has a different approach to content: Twitter, for example, has been used mostly for news and quick updates.
It is not an ideal platform for sharing many pictures or long messages. However, people share links to videos, pictures, slideshows and other websites that are relevant to the viewer.
2. Choose the content you are going to deliver
Many different kinds of messages can be delivered through Twitter, but the company has to define the type of content that is meant to be shared. It could be news, contests, info about the company or "Did you know…" tips.

3. Plan and schedule your content for your primary marketing tools
Don't go online without a plan. Content has to be delivered at the right moment when your audience is there reading it. Study the audience and find out what time is the best to give them pieces of content, when they are online surfing.
4. Automatize your tweets
There are plenty of automation apps and software that can be used to ease some annoying tasks.
When it comes to repeating information or maybe if you discovered that publishing has to be done in a difficult hour for you, the solution is to set the timer on an app and let the software handle it.
5. Stay genuine
What people like the most from the brands reaching out online is to be able to tell how genuine they are. The audience must feel they are talking to a person, not a bot especially when you are doing Twitter marketing.
To achieve that, you must know what contents are to be delivered for what purpose.
Don't oversell your products through Twitter. Try to engage with the followers and try to solve the problems that they are facing.