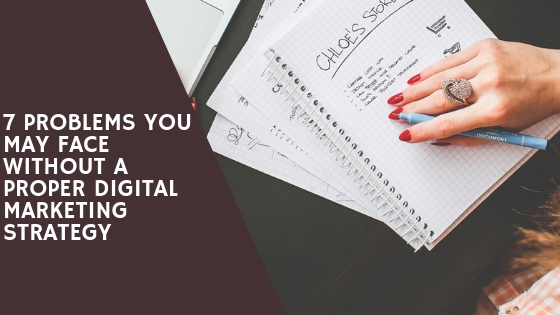 7 Problems You May Face without A Proper Digital Marketing Strategy
The marketing landscape is changing every year and staying on top of that has become a challenge. Every year new technologies, strategies, and trends are emerging, and so you need to keep your digital marketing strategy updated to survive in this fast-evolving market.
You need to find which digital marketing approach works best for you. Look at the below data collected by Econsultancy / Adobe. It shows different approaches adopted by B2B marketers from the USA and Europe.
Digital Marketing Trends
Econsultancy / Adobe
If you leverage the digital marketing strategy correctly, it can fulfill the requirements of your business goal and can grow the demand for your products or services.
Do you have a digital marketing strategy?
No matter what industry you are in, having a digital marketing strategy is a must-have marketing approach. More and more customers are purchasing or at least making their purchase decisions online. So, if your business is not on the web, you are missing out on a lot of potential clients or customers.
The challenges in digital marketing
Digital marketing has shown rapid growth, and more and more companies are fighting to go on top of that. It increased the competition and also forced digital marketers to innovate and improve their digital marketing strategy constantly.
So, the most common challenge that a company face is where and when to start the digital marketing strategy.
Many marketers lose a lot of time researching and gathering reports and data and then don't understand what to do with all these numbers.
Many organizations also face a problem when it comes to the budget for digital marketing. Is it too big or too small? How much should I spend on digital marketing? How long should I keep the advertising campaigns live? What should be the scale of my digital marketing?
An approach to digital marketing
Every digital marketing campaign should have a proper plan from the very first day. Starting a marketing campaign without a strategic approach is a very common mistake.
You should draw your opportunities, goal, the objectives, the target audience, and a timeframe.
In simple words, every digital marketing campaign should have these three steps Opportunity>Strategy>Action.
If you don't follow a strategic approach, it can lead you to many problems.
7 problems you may face without a proper digital marketing strategy
#1 You have no direction
Companies, who do not have an appropriate digital marketing strategy, become directionless and they do not know what their goal is. They do not know what they have achieved and what they can achieve.
#2 Defeated by Competitors
When you do not have a devoted plan for your digital marketing campaign, you do not know where your competitors are heading, how they are attracting the customers, and eventually, your competitors win the race.
#3 You don't know your target audience
When you do not have a transparent approach, you do not know where your audiences are, what are their demands, and how to solve their problems. If your primary approach is content marketing, then you should have proper planning for keyword analysis. Without keyword planning you can not attract the visitors to your website.
#4 You don't know your customer's sentiment
You need to know your customers well enough to create a sales funnel to convert your visitors to leads. You need to implement feedback tools to understand the sentiment or else you will not be able to solve their problems.
#5 You are wasting your money
When you don't have a plan for your digital marketing, you are throwing your money away. A disintegrated team will end up buying several different tools, hiring inexperienced agencies, and buying unwanted resources.
#6 You are not optimized
Every digital marketing campaign must have analytics, and if they don't, or do not bother to check the outcome and act on them, they will not be able to optimize their approach.
#7 You will not be able to catch up
A company will not be able to catch up with the fast-paced digital marketing trend when they are busy clearing the mess which they have created due to lack of digital marketing planning and approaches.
Once you have a digital marketing strategy with all the basics right, you can count on that plan, improve the approach and update your strategy with the changing trends.
This Content was originally posted at https://www.klusster.com/klussters/the-digital-mind-iamcontenting/publications/7-problems-you-may-face-without-a-proper-digital-marketing-strategy-2858-6587