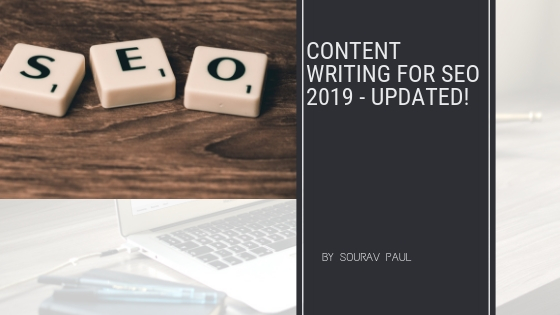 Content writing for SEO 2019 – Updated!
SEO is the hottest and the trendiest term in the world of digital marketing. It's 2019, and almost everyone is aware of this term.

SEO (search engine optimization) is a marketing action to increase the visibility of a particular website or webpage.

SEO is used by

content marketers

to increase the quantity of traffic to their websites. Being an organic way to increase the visitors, SEO contents are the roadways towards to appear on the top of search engine results.



Introduction to SEO Content

This phrase "SEO content" is widely used by marketers.

Now, what is SEO content?

Content, in reference to SEO, means material created with the aim of getting maximum traffic. If your content is not SEO oriented, then you will miss the chance of getting the required traffic.

Search engines always strive to improve their applications and technologies to provide better results to searchers. Organizing the content of your websites can pilot your monthly visitors from none to never-ending.

SEO can enhance the ranking of content in such a way that it will reach to users effortlessly. The area of content marketing is highly competitive, which increases the significance of SEO content.

Companies who optimize content with SEO always have the upper hand in terms of visitors.



Page Title With A Keyword for SEO

While most people think that the title of the content cannot influence the number of visitors, they hardly know that Content writing for SEO is incomplete without a keyword in the page titles. The answer to your "Why" is, Google also makes use of page title to show better search results, which means the keywords in page titles acts as a basis for a better ranking.

Your main goal is to attract as many visitors as you can and using a keyword in the title put a potential SEO value to your article.



Attractive Titles for Better CTR-SEO

Titles are important not only to entice the readers but also to communicate the readers, the subject matter of the content.

Content writing for SEO includes using title tags and making it attractive to get a higher CTR (click through rate).

An attractive title evokes interest in the readers and keeps them engaged. An improved CTR doesn't necessarily mean an increase in ranking, CTR helps to boost the traffic on your website, with no change in ranking.

A short and crispy title with a pinch of creativity work wonders to attract visitors.



Setting Focused Keywords for SEO

Without a set of focused keywords, content writing for SEO is entirely incomplete. One of the most effective ways to generate traffic through search is conducting thoroughly researched keywords.

This strategy includes making a list of keywords to rank for and using them in your content. But choosing an ideal keyword is not an easy task, it needs research and analytical skills.

Before choosing any keyword, research well using various SEO tools like SEMRush
 and check competition regarding them.
Whether it's a one-word keyword or long tail keyword, avoid using it excessively. Search engines are smart, and they will easily catch the unnecessary usage of keywords consequently depriving the searchers of your content.
Power of Meta description for SEO
What is Meta Description?
The meta description is an attribute that summarizes the content of a webpage to provide a better conception to users and search engines. Meta descriptions are considered as an important element in content writing for SEO to raise the CTR of your search result.
Whenever your page appears in the search results, a snippet of text will be shown under your title, and This text is a meta description which can contain up to 275 characters. Although meta descriptions don't affect the ranking, it put an excellent impact on your SEO efforts.
Importance of Subheadings for SEO
Subheadings are mini headlines which are meant to stand out and compel the readers to read the whole page rather than just having a look over it.
Subheadings play a vital role in holding the interest of a reader. While a dull or boring subheading will stop the reader to move down further, a creative subheading will get the attention of the readers and will induce them to read from one subheading to another.
An ideal subheading would be unique, useful and specific.
Pro tip – Focus on your first and the last subheading and make them more intriguing.
Target LSI keywords
LSI refers to latent semantic indexing. LSI keywords are those keywords which are used by your competitors in relation to a given topic. In simple words, LSI keywords have a higher level of connection with your topic.
Using targeting LSI keywords will help you to get a better ranking. LSI keywords are used by the search engines to check the quality and relevancy of the webpage. Search engines look for the words related to keywords to appear in the content. If you are using related LSI keywords, then you are most likely to get a better ranking.
Craft Long-Form Article
You must have been lulled into believing that long articles have lower performance than short articles. But, this is where you took a wrong turn!!
Content writing for SEO and long-form article walk together.
Long form articles perform typically provides higher visibility and a stronger link building. Articles with more than 2000 words tend to top the search results.
Due to detailed information, these articles face higher sharing on social media.
One more advantage of
writing long-form articles
is, they facilitate the uses of more and more keywords. SEO writing is much more complex than it looks like and same goes for the working of search engines. Content writing is much more than just writing a long article.
But, if you are well aware of the Google's algorithms and SEO tools, then you can make content marketing a less tiring job.
You can also use KWfinder by Mangools to find the keyword that are ranking on your niche and what are the keyword difficulties and also can do a SERP analysis to further strengthen your SEO strategy. 
SEO needs time a proper strategy. One needs to be updated with all the changes that are required every time when there is a change in search engine algorithm.